Thirsty Reader often asks 'How can I become a wine writer for the slick magazines? Or the blogs, websites and e-zines? What certifications, arcane courses, secret passwords and weighty degrees do I need to enter the sacred grove? How many years spend in monk-like poring over holy scrolls?' Fool, he! To think that I would spill the fagioli, reveal the Rosicrucianesque secrets of our mystery, to such a feckless
fellow! On the other hand, what the hell. So 'fasten your seat belts', as the celebrated coach-class drama queen Bette Davis once said: 'It's going to be a bumpy night.' ¶ Here's the deal: You don't need diplomas; don't need certification, don't need to know a damned thing. You can just jump right in, scribbling as fast as you can. Standards are so low that many folks do just that. ¶ One fellow I often see at tastings bragged that he merely adds a liter of smarmy praise to press releases and then regurgitates into his keyboard. When I skanced his ethics he helpfully explained, for the benefit of my advanced years, that 'Journalism is different now.' Oh. Missed that memo. ¶ Natalie MacLean's method was to simply help herself to reviews published in Vintages, the online magazine of the Liquor Control Board of Ontario. Vintages gathers reviews from many sources—Robert Parker, Jancis Robinson, Tony Aspler, Harvey Steiman—but always attributes them: writer's full name plus date and name of publication, and until she was exposed last year by palatepress.com, MacLean simply Hoovered them up and emptied them into her paid-subscription newsletter, and she did so without the authors' permission. She also reduced the proper attributions to nothing more communicative than the writers' initials. MacLean has claimed that the writers were fully identified elsewhere, in a special directory, but it was, oddly, a directory that many sought but none could find. And she ignored repeated requests to provide it.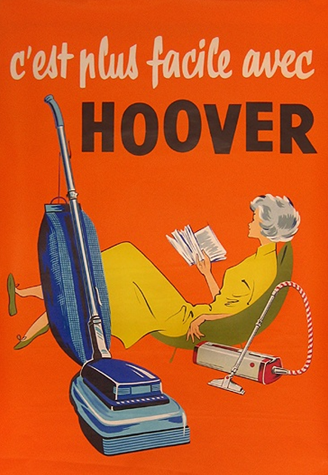 Traditional writers Hoovered, but the modern ones,
who style themselves as 'aggregators' or 'content
persons', are just as apt to Dyson or even Bissel.
Canadian blogger Michael Pinkus, who was the first to blow the whistle*, provided some convincing evidence of MacLean's method. Vintages published this:
Tank sample. Very rich and opulent nose. Great polish and just the merest suggestion of raisins. Big, dry and hot on the finish. Expressive of the terrain! Good for those who seek sunshine in a bottle. Drink 2013-2017. Score: 16 (out of 20) (Jancis Robinson, MW, jancisrobinson.com, Dec. 21, 2011)
And then MacLean published this:
Tank sample. Very rich and opulent nose. Great polish and just the merest suggestion of raisins. Big, dry and hot on the finish. Expressive of the terrain! Good for those who seek sunshine in a bottle. Drink 2013-2017. Score: 16 (out of 20) JRO.
As if! As if anyone would know 'JRO' is Jancis Robinson or that 'JRO' and others were not MacLean's staff members. ¶ Under pressure, MacLean has had to promise to mend her ways [and her archive], so maybe hers is not the best way to go. After all, she got caught, and the resulting tsunami of angry e-mails contained other allegations: that she defends herself with fake letters from invented friends; that when she solicits book blurbs she helpfully sends along the very blurb she wants written; that she even plants baby-food
questions in her audiences; that she 'has proven herself time and again a self-promoting hack'. That was Dec. 15 last year. Two days later palatepress.com was back, writing that she requests wine samples and then requires the wineries to subscribe to her newsletter as a condition of reviewing them (she denies that, too, but many are unconvinced). ¶ Maybe it's safer to get someone else to carry your water. Ben Mims did that in his article in Saveur, where he at least gave fair warning, saying 'I generally avoid reds unless I'm eating the occasional steak'. OK, if you take advice from someone like that, you get what you deserve. Anyway, Mims found a beverage director at a Wall Street bull-and-bears expense-account haven who cheerfully provided lots of bull, lightly wrapped in yard-sale grammar. Such as 'buy wines from smaller, family-run vineyards because they care more about developing a great-tasting wine rather than making money. And as a result, these small-producer wines will generally be cheaper. Major-market wine, by definition,


Not if you really want to be a wine writer.
can't make good wine cheaply like smaller vineyards can, i.e. California cabernet sauvignon and chardonnay, Oregon Pinots, or French Burgundies and Bordeaux.' And: 'If you go into a wine store that also sells liquor, get out!' Take that, Sherry-Lehmann, Zachy's, Pasanella, Garnet, Astor, Acker Merrall and many more. 'Don't', he adds, 'get caught up in the hype around certain wine concepts, either—like supposedly "bad" wine years', because that's 'all nonsense: When wine producers make wine one year that's not on par with their normal selection, then it's not necessarily bad, just different. That may be the wine that you like because it's different, but you should generally stick to a wine producer that can make great wine no matter the conditions'. ¶ A colorful story can be helpful, as when Steve Olson explained that sherry improved during long sea voyages because sailors had to roll their cargoes of 54-gallon sherry butts and 130-gallon pipes back and forth in order to steer their ships—because rudders hadn't been invented! His innocent audience gravely took notes, perhaps unaware that sherry butts weigh in at about 500 lbs. each and pipes 1200 or so. Now imagine the thrills that ensued when el capitan cried 'Hard a-starboard'.
  Fancy rolling these bad boys across your deck?
¶ Pomposity also sells, as in Alan Richman's 'Sparkling wines that are not champagne structurally lack finesse, enologically they lack bouquet, and sentimentally they lack ostentation' [that is, they're too cheap to be good]. Beyond his butchered bon mot lie much foolish pretension and the ludicrous assertion that no sparkling wine—none!—save champagne is worthy. Poor man. Perhaps he hadn't tried anything from Schramsberg, which routinely makes the top five in blind-tastings with the best of France; and perhaps he didn't know that Claude Taittinger, who expanded his house by founding Domaine Carneros in 1987, mightn't agree. On tasting Eileen Crane's Le Rêve, her top cuvée, he was overheard complimenting her with these words:

 
 Eileen Crane: Claude Taittinger chose her to be both president and wine-maker of Domaine Carneros, and to oversee its construction and design, too. He chose well: an ex-tour guide and fill-in pastry chef, she'd done the same job at Gloria Ferrer, and made Ferrer's sparkling wines. Her Carneros Pinot Noir is nifty too.
'Madame, you make an excellent champagne.' Matt Kramer once had a domestic sparkling wine that moved him to say 'this stuff is amazingly good' and once when John Brecher and Dottie Gaiter raved about their host's sparkler he took them aside, showed the label and crowed, "$9.95!" In both cases the wine was Gruet, from New Mexico. Ostentation-wise it is, I admit, a bust: list-priced at $14.99 and findable at $11.97. ¶ Always remember that you can compensate for your ignorance, whether it's a] total, b] utter or c] both, by pretending that it just doesn't matter. So lean heavily on key selling words and phrases. Promise to cut through the jargon; say you'll empower readers and demystify wine so it will no longer be intimidating. Say anyone can become an instant expert after learning just a few simple rules or connoisseurs' secrets, and thus be able to choose with confidence any number of great wines at great prices. Promise that you will reveal the secrets that sommeliers won't tell you! Lean heavily on verbs like let, allow and permit because, if I may use a modish phrase, you are giving permission, as if readers are still

Role models: Legendary blogger John (Steel-Drivin' Man) Henry, l., sacrificed his life to cutting through jargon. Lt. Ellen Ripley, r., mentors a young girl who dreams of becoming an overnight wine expert. 
in grade school. You're parlando attraverso il tuo cappello, of course; i.e., your advice is crap [chazerai is the term of art], But so what? In lifestyle media, many of the editors are children. They don't know anything, so when you say that you do, they'll fall over like lodgepole pines. Neither do they read much, so although m'zine rticls nly 140 chrctrs lng remain but their distant dream, your piece can easily be as short as their attention spans. ¶ Thus Martha Stewart Living: Chianti 'is easy to enjoy, with a fresh berry taste and fragrance. Chianti Classico Riserva is . . . a little more expensive'. [Double or triple is not a little; Chianti and Chianti Classico are not the same] And lest you be confused by Barolo, Barbaresco and Dolcetto, here's the sum total of MSL's counsel on Piedmont: 'wines that are made from the Barbera grape are lush and smooth, often with a hint of chocolate'. End of story. Here's one of Every Day with Rachael Ray Magazine's 'Five Ways To Become A Wine Expert Overnight': 'Ancient: · Spotting this on the label or old vines means that the grapevines are decades old with fewer grapes produced resulting in a
stronger flavored wine.' This author can't even count: She offers six ways, not five. That and much more got past the staff of child editors, who then put the article on the wrong page, making that issue, l.,  either a cherished keepsake or a valuable collector's item, I forget which. In the ineptly named Real Simple, Andrea Immer once told readers how  'to decipher a restaurant wine list [and] choose a high-quality, well-priced bottle' by budgeting—'before you crack open the menu'—up to 50% more than the most expensive entrée'. Next, 'eliminate half the menu[??] by choosing red or white, then . . . choose by grape variety, picking one that is crowd-pleasing and versatile. A no-fail white grape is Riesling, and the red grape Pinot Noir is superb'. I advise you not to dine with a person who accepts such really simple advice. Better counsel: 'If you know nothing about wine, a] don't try to fake it and b] call the sommelier, dammit!'. But that wouldn't empower the reader, I guess. ¶ Anyway, we're done. You now know what it takes, so get going. Buy some purple ink, and if you manage to publish a few bylined articles by the end of the year, I might even let you in on the Secret Handshake.
————————————————————————————
*President of the Wine Writers' Circle of Canada and Grape Guy behind ontariowinereview.com, Pinkus first sent his complaints to MacLean and to Circle members whose work she'd used. MacLean resigned her membership in the Circle but was otherwise unresponsive. Pinkus then informed 20-odd other writer/victims, and the news quickly spread until it reached palatepress.com late last year.
©2013BillMarsano